Hot Minute with Bad Bad Meow
This Chicago based band began in a small town in North Carolina; bringing their southern indie rock sound to the North. Bad Bad Meow has a style that is a nod to the White Stripes and The Violent Femmes.The two front runners in Bad Bad Meow are Alen Kahn (Guitar, lead vocals) and Sarah Sydow (Drums, backing vocals). They were featured on episode #43 of Homoground. You can listen below:
The CD, Big Phat Pussy, begins with the song, "La La La" and begins you on a country rock voyage into the life of Bad Bad Meow. Alen's falsetto voice hits flawlessly while Sarah carries through with her backup beats and vocals throughout the entire CD.  Their song, "Drink and Regret" truly showcases how strong this band is with their punch-in-the-face lyrics and robust sounds. Bad Bad Meow forces you to face the evils in your life and then drink them away with smile on your face. "Wheel" most exposes their country influences as it asks that million dollar question, "How does it make you feel?" If you happen to live in the Windy City you are bound to see a free show by them at the Gallery Cabaret on any Sunday night.
Recently I went up to Chicago to hang out with Sarah and meet the new lady in her life. By default, I met Alen and he even let me crash at his house a few days while in town. It was three days of seeing the sites, drinking in the night and eating at their favorite Mexican restaurant. Of course, I introduced them to Homoground. I have since returned from the Windy City but they have agreed to let Homoground & friends in on their life a little bit.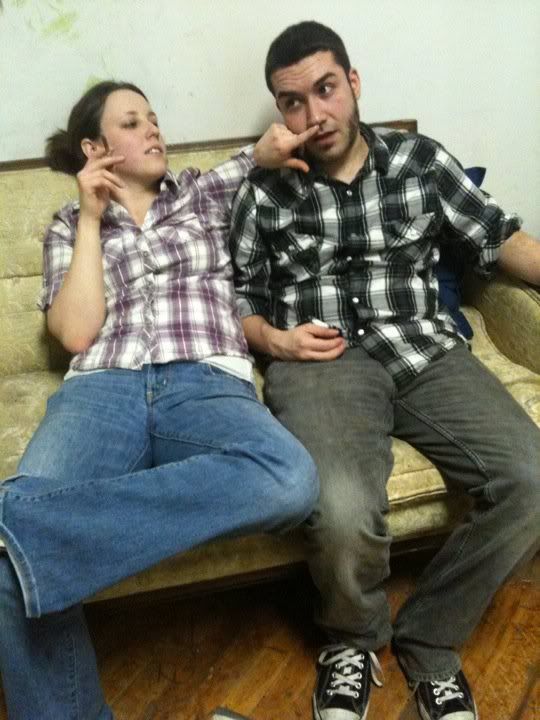 Homoground: How did the band conspire?
Sarah Sydow – Al and I met when he moved to New Bern, NC (where I grew up) and would jam a few songs at an open mic for over two years. He moved to Chicago at the end of '09. We recorded a record just before he moved as The Slapchops. It was great. Al had been trying to convince me to move to Chicago with him. Finally in June of 2010 I came to visit and he won. I moved a month & a half later. He had already been playing with our lap steel guitarist Chris Ray by the time I got here. Al had been wanting to change things up a bit so he switched from an electric guitar to an acoustic and we renamed the band Bad Bad Meow.
HG: Who contacted who about starting the band?
Alen Kahn – I actually came up here to do music and continue my old punk garage band called Perfo with new folks. It didn't have the same feeling and I didn't want to do the same thing over again. I made the decision to go acoustic and that time Sarah was still in NC but I convinced her to come up here for a few days and then she fell in love with Chicago like I did. Last year she decided to truck up here.

HG: Where did the name Bad Bad Meow come from?
AK – I was dating this girl who would spin things that I would say. I was talking about how I was allergic to cats and she said "yah buddy, bad bad meow!" It stuck in my head and I texted it to Sarah as a joke and she loved it.
SS – I laughed so hard and told him it was the dumbest thing I'd ever heard and I loved it. That's kind of been the foundation we've built the band on. If it makes us laugh and it sounds like it's crazy… run with it. It's worked great for us.
HG: Why was it decided that Chicago was the place to unleash your talents?
AK – Chicago is a very diverse and open minded city….plus the amazing music scene doesn't hurt.
HG: Drink of choice during a set?
AK – tequila!!!
SS – and Old Style
HG: Who writes the songs? Is there one that is a favorite to perform?
AK – I write the songs and Sarah helps defines and shapes the song. My favorite to play is Moon Shadow because it can be really long and ridiculous. Sarahs favorite is Drink and Regret.
SS – Al Jolson is another favorite. I can't help but laugh every time Al sings "I sing like Al Jolson. I sing like Jack Johnson" cause he uses these hilarious voices.
 HG: Is there a favorite venue/bar that Bad Bad Meow has performed/wants to perform in?
AK – We love the Gallery Cabaret! It is our second home and is close to our actual homes.
HG: Will there be upcoming tour dates after the CD release? What's the future for Bad Bad Meow?
AK – We have tons just check our FB.
SS – I'm thinking world domination… that's a good place to start.
HG: Anything you feel I left out? Anything you want to make fun of me for? Anything specific you want to elaborate more on?
SS – Ehhh… well since we're doing this over email it's hard to tell if you're wearing any silly pants or anything. I do think you may have a boogie in your nose though. No no… the left nostril.
Bad Bad Meow is set to officially release a vinyl and digital download November 30th, at The Empty Bottle in Chicago, IL.
Check out Bad Bad Meow music out at these locations:
Spotify
Facebook
YouTube
Myspace
Reverbnation